HI, MY NAME IS ANNABEL, AND I AM A CAFFEINE ADDICT…
Every morning it's the same routine: I drowsily silence my alarm clock and roll out to the edge of my bed, depending on gravity to literally get me out of bed. What can I say? I am not a morning person. I shuffle, half awake, to the kitchen and make a pot of coffee. My workday hasn't officially started until my first sip of piping hot java.
YOU KNOW WHAT GOES WELL WITH COFFEE, RIGHT?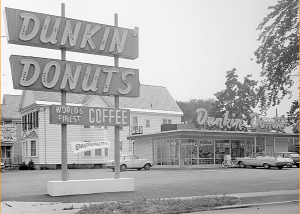 A staple of early morning staff meetings, the doughnut is an important part of Americana (even though its cultural origins are disputed). You cannot mention doughnuts (or coffee) without a nod to Dunkin' Donuts.
In 1946, William Rosenberg founded Industrial Luncheon Services, a company that delivered meals, snacks and coffee to Boston factory workers. Industrial Luncheon Services' success led Rosenberg to open his first coffee and doughnut shop, Open Kettle, which later became Dunkin' Donuts in 1950. Today, Rosenberg's franchise has more than 9,700 locations in 31 countries worldwide. Of course, the majority of Dunkin' Donuts restaurants are in the U.S.
Though the original Dunkin' Donuts location in Quincy, Massachusetts focused on coffee and doughnuts, modern day locations serve much more than the ubiquitous breakfast food. Today, you'll find apple pie, bagels, breakfast sandwiches, cookies, danishes, and even tuna sandwiches on the menu.
Did I mention they serve coffee? While "donuts" might be part of its name, Dunkin' Donuts' coffee comprises almost 50 percent of its profits. For the past five years, the company has held the number one spot for customer loyalty in Brand Keys' coffee category. I'm not surprised, I drink at least one cup of Dunkin' Donuts coffee every day. After all, American runs on Dunkin'. Or so they say.
FUN DUNKIN' FACTS
Dunkin' Donuts makes over 1,000 different kinds of doughnuts. My favorite? The French Crueller, feel free to send me a dozen.
In 2009 and in 2010 Dunkin' Donuts held a campaign for the general public to create the next Dunkin' Donut. Each winner won $12,000 respectively and had their doughnuts offered for a limited time in Dunkin' Donuts locations. Did you try one: Monkey See Monkey Donut and Toffee For Your Coffee?
WHY COFFEE & DOUGHNUT RETAIL FRANCHISES ARE GOOD INVESTMENTS
As a country, 50 percent of Americans drink coffee drink an average of 3.2 cups of coffee every day. At 9 ounces a cup, we're consuming almost 29 ounces per person per day. It should come as no surprise the U.S. dominates the world in coffee consumption. It's predicted that by the end of 2011 there will be over 50,000 coffee shops in the United States. There's an undeniable demand for coffee and its accompanying sweet treats, making coffee and doughnut retail franchises good investments.
SIMILAR COFFEE & DOUGHNUT BUSINESSES AND FRANCHISES
Caribou Coffee
Honey Dew Donuts (New England)
Big Apple Donuts and Coffee (Asia)
J. CO Donuts & Coffee (Indonesia)
Krispy Kreme
Happy Haus
Mister Donut
New England Coffee
Starbucks
The Whole Donut (New England)
Tim Hortons
Country Style